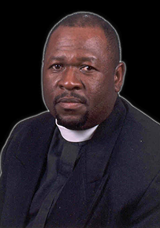 Superintendent Walter C. Robinson was born to the late Deacon Booker T. and Sis. Ada Shuler Robinson, parents whom he cherished and who taught him at a young age the value of reverence to God.
In 1975, he gave his life to God during a 30 day revival at Bowman Temple Church of God in Christ, which was just the beginning of his growth in ministry. He began his call in ministry in 1981 as an ordained Elder under the leadership of the late Superintendent Jacob C. Dantzler. In 2002, he was officially appointed Pastor of Greater Miracle Temple Worship Center by the Episcopal Decree of the Right Reverend Johnny J. Johnson
To obtain future insight of the Word of God, he began attending seminary classes at Southern Methodist College in Orangeburg, SC, and other empowerment conferences for additional knowledge of the Word. He proudly proclaims that he received the PhD that can only be given by God, which is the "Power to Handle the Devil." He is a radical preacher, but an anointed vessel and a servant at heart who hears the voice of God, and preachers the profound word of God. He is truly a pastor after God own heart to lead the people to God by understanding the word of God. He has been called a Prophet, an Apostle, and a Teacher of the doctrine of God, but he proclaims to be a servant and a vessel for the use of the Kingdom of God.
He shares his walk in ministry with his lovely wife, Evangelist Carrie Robinson. He is the proud father of seven children and the grandfather of seven grandchildren. He equips his family as his parents equipped him to walk in the will of the Lord and to know the Lord for themselves.
Pastor Robinson currently serves as the District Superintendent of the Lower Midlands District of the Church of God in Christ, South Carolina Jurisdiction. He has severed faithfully in the ministry for over 20 years and God continues to give him a vision for this work. The best is still yet to come for this anointed man of God that leads Gods people into the overflow of the anointing.